You'd be mad to come on holiday to Cornwall and leave your dog at home and pets are welcome at Jowders. We've had dogs, cats and even a rabbit stay before.
A few house rules:
* Dogs should not be left alone in the cottage if they will bark persistently;
* Pets should not be allowed into the bedrooms;
* Please keep your pets off the sofas. If yours will sneak onto the sofa when you're not looking (as our Rosie, pictured, would) then bring clean throws for each of the two sofas.
There is a single £20 charge for pets to allow us extra cleaning time when you depart.
When booking, do let us know the name of your pet(s)!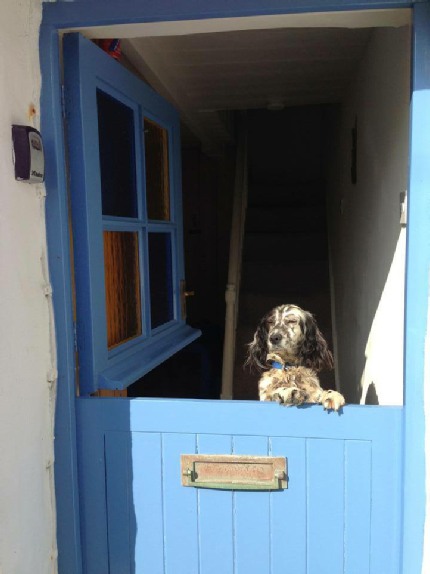 Dogs have holidays too!
You will be spoiled for choice where to walk with your dog, from the coast path (passes right outside the cottage) to woodlands and Cornwall's glorious beaches.
The great majority of cafes and pubs welcome dogs and you might be surprised to learn that many gardens and some attractions (such as the Eden Project) allow dogs outdoors.
View the dog-friendly beach map here:
Note these are the MAIN Cornwall beaches. There are hundreds of small beaches and coves that have no restrictions at all.